To choose the right size for your outerwear, here you will find all the size tables for ladies.
How do I measure the right size?
If you want to measure your size, it is best to do this while in your underwear. This improves the accuracy of the measurements. Use a measuring tape in centimeters (cm) and do not pull the measuring tape too tightly around you. The sizes relate to standard sizes.
Measurement and measurement instructions
Sizes and measurements can vary per manufacturer, brand and shape.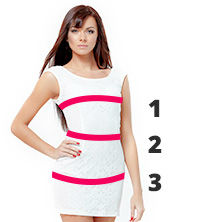 1. Breast size
For measuring the upper width of your chest size
place the measuring tape around your chest at the level of the nipples.
2. Waist
To measure the waist, place the measuring tape
where the waist is narrowest.
3. Hip size
To measure the hip circumference, place the measuring tape
at the widest point of the hips.
Women's outerwear (sizes in cm)
International
Clothing size
Chest circumference (cm)
Waist (cm)
Hip circumference (cm)
XXS
32
74 - 77
61 - 63
83 - 86
XS
34
78 - 81
62 - 64
87 - 91
S
36
82 - 85
65 - 67
92 - 96
M
38-40
86 - 89
68 - 71
97 - 100
L.
40-42
90 - 93
72 - 75
101 - 104
XL
42-44
94 - 97
76 - 79
105 - 107
XXL
46-48
98 - 101
80 - 84
108 - 112
Corsets (sizes in cm)
Clothing size
S
M
L.
XL
2XL
3XL
Waist size
65-73
74-81
82-90
91-102
103-114
115-128
Corset size
56
66
76
86
96
106
Stockings and Tights
Size
0
I (1)
II (2)
III (3)
IV (4)
V (5)
VI (6)
International
XS
S
M
L.
XL
2XL
3XL
Clothing size
34/36
36/38
40/42
44
46
48/50
52/54